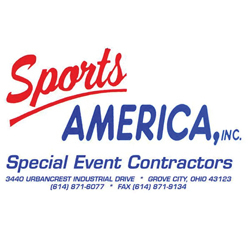 EVENT SET-UP GENERAL LABORER - SPORTING AND SPECIALTY EVENTS
Sorry, this job has expired.
Grove City, OH
Sports America, Inc. has immediate openings for set-up and removal of equipment used for special and sporting events. Work hands-on (tents, viewing facilities, bleachers, temporary flooring, staging, etc.). If you love to travel, this position will be perfect for you!

Pay is based on experience and availability. Part-time is an option if that works best with your schedule.

• Must be able to work extended hours/weekends as needed.
• Ability to travel out-of-state for events away from home when necessary.
• Possess a valid driver's license with good driving record.
• Ability to operate equipment/tools to perform work assigned
• Possess strong work ethic
• Supervisor experience a plus
• Construction experience is a plus
• Class B CDL is a plus

About us:
Sports America's management and staff have extensive experience in the Special Events industry. This expertise includes golf, tennis tournaments, auto racing, horse racing, corporate events, trade show decorating, signs and graphics and other special celebrations. Our dedication and enthusiasm enable us to offer new ideas and designs to our clients to help make their event a success.

We are an Equal Opportunity Employer.
8935